7.00pm: We are wrapping up this live blog now. My colleague Adam Gabbatt is leading our continuing coverage of events this evening here.
6.30pm: There are developments in a number of areas around London at the moment. Two Guardian reporters have been in touch with news of a large disturbance in Peckham, south-east London. Police are blocking the main street in the area. Adam Vaughan says there are about 50 young men, some in ski masks and balaclavas on Rye Lane.
James Walsh is hearing reports of shops shutting down across the city, including those around the Angel, Islington, as well as Stoke Newington, Wood Green, and Lewisham.
In Islington, branches of Sainsbury's, Tesco, Waitrose and the Co-operative have all closed their doors.
On Stoke Newington High Street, the Sainsbury's store has pulled its shutters down, as have some of the smaller shops and corner shops. "There's a really odd, gloomy feeling – everyone is just standing around talking about when it will kick off here", he says.
The Victoria line has been suspended between Stockwell and Brixton "due to civil unrest", according to this picture.
5.59pm: This video footage shows the moment the Mantella jewellery shop in Enfield was raided last night.
Earlier we reported that the owner, Erdal Mehmet, 49, said around £40,000 worth of watches were taken.
5.55pm: Our reporter in Hackney, Mark Brown, says the disturbances appear to be fizzling out for the time being. There are sporadic outbreaks of stone-throwing, and the situation remains volatile, but police are now allowing traffic down Mare Street.
Meanwhile police have been dealing with disturbances in Lewisham. ITV London reporter Charlene White has posted this picture of police lines on Lewisham high street.
5.51pm: The home secretary, Theresa May, who has returned from holiday today, has just given a recorded statement to broadcasters. She says that at least 215 people have been arrested and 27 people charged following the riots in London.
5.49pm: In signs that there could be trouble in a number of areas around London tonight, Stratford theatre in east London has closed on police advice.
5.47pm: In south London, the Lambeth police borough commander, who has responsibility for Brixton, confirmed that three non-fatal stabbings took place during last night's riots there. He said he had visited an injured police office in hospital and added that "his face was covered in stitches".
A Scotland Yard homicide team has been brought in to investigate the riots, according to Ephgrave, speaking at a meeting with Lambeth Council and community leaders at Lambeth Town Hall.
5.42pm: The Press Association news agency is reporting that Boris Johnson, the mayor of London, is to return to the capital tomorrow to deal with the growing crisis in the capital.
5.41pm: A recent article by my colleague Alexandra Topping, which has been widely quoted since the weekend, is once again looking prescient in the light of what is happening in Hackney tonight, where appears that the trouble in the Mare Street area flared after a stop-and-search incident.
Alexandra talked to many people in Hackney, and says the youths there "hate" the police. One told her he had been stopped and searched 17 times in one week.
5.33pm: Deputy assistant commissioner Steve Kavanagh, who is the deputy head of territorial policing at the Met and who has been heading the force's response to the violence, has just been interviewed on BBC news. For what we think is the first time in such clear terms, he admitted that the police had failed to handle properly the concerns of the Duggan family, and he issued a direct apology. This is what he said:
I want to apologise to the Duggan family because I think both the IPCC and the Metropolitan Police could have managed that family's needs more effectively.
It's interesting that he wrapped in the IPCC to his admission. Earlier, the commission attempted to deflect blame onto the Met for failings in the institutional response to the Duggans.
5.23pm: There were some dramatic pictures of the rioting at the weekend, showing significant damage to many buildings in north London. Our interactive department, along with the picture desk, has put together this "before and after" slideshow. Use the slider to reveal the extent of the damage.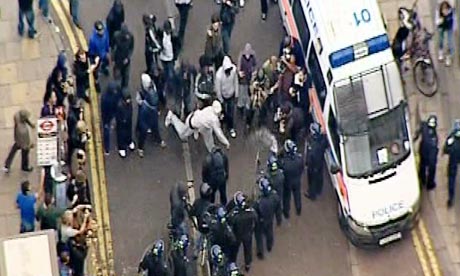 Police confront youths in Hackney, London Photograph: BBC
5.14pm: BBC News is showing live aerial pictures of the developing situation in Hackney, where there have been skirmishes on Mare Street. Pictures show groups of youths milling around, using sticks to try and break the windows of buses and shops. Police in riot gear are lining the street, and a number of buses appear to have been trapped. One reporter described the situation as a "running battle".
5.04pm: This is Matt Wells taking over the live blog from Sam Jones.
Our correspondent Vikram Dodd reports that Scotland Yard has introduced special powers in four areas, allowing officers to stop and search suspects without reasonable suspicion. The powers are contained in section 60 of the Public Order Act. The areas are Lambeth, Haringey, Enfield and Waltham Forest. The section 60 powers were invoked around midnight on Sunday following a second night of serious disorder to hit London.
4.56pm: Ed Fraser, Channel 4 News's head of home news, has tweeted this about Hackney:
Incident at Hackney reportedly began after stop and search operation – missiles being thrown at police line
4.53pm: My colleague James Walsh has been speaking to a council worker in Hackney. Unsurprisingly, there's talk of trouble on Mare Street, the main thoroughfare in central Hackney. The worker said:
All council employees told to go home. Something supposed to be happening at 5pm in Mare St."
4.50pm: Mark Brown has just seen riot police in the gardens of St John's church, Hackney.
4.49pm: Mark Brown, our arts correspondent, is also sensing trouble in Hackney:
There is a police helicopter dramatically circling over Hackney. Been here more than five minutes. Quite a lot of hood up kids cycling round as well.
4.45pm: The Guardian's Dave Hill is on Narrow Way in Hackney, where something seems to be under way. He says:
All kinds of chaos and lots of police. It's difficult to see what's happening, but there are a lot of police vans and a lot of police and a lot of people being stopped and a few arrests."
There's also some kind of standoff with cops, but there's been no trashing of shops as far as he can see.
Jess Brammar, an ITV news producer, is also in Hackney where she can see rocks being thrown at police and youths jumping on a police car.
4.31pm: Colin Blackstock, who's on a bus, has reported a crowd throwing stones at a police van in Hackney.
4.27pm: Jasmine Coleman sends this from Brixton:
Brixton Road is still closed to both traffic and pedestrians following the unrest last night. Officers only put up the cordons across the road at lunchtime and aimed to reopen it to traffic after a couple of hours. But it looks as this part of Brixton will remain blocked well into the evening at the moment. Brixton tube station is also still closed, although the overland station is open.

Most of the worst affected shops have now been boarded up but there are still clothes hangers strewn across the pavement. Whatever happens next, the clean up here will last for days.
Josh Halliday is still trying to find out what's going on with BlackBerry-maker Research In Motion. He writes:
RIM is refusing to comment or clarify its earlier statement which has caused some consternation on Twitter.
This is what RIM said in full earlier:
We feel for those impacted by this weekend's riots in London. We have engaged with the authorities to assist in any way we can."

"As in all markets around the world where BlackBerry is available, we cooperate with local telecommunications operators, law enforcement and regulatory officials. Similar to other technology providers in the UK we comply with The Regulation of Investigatory Powers Act and co-operate fully with the Home Office and UK police forces."
Like other technology firms, RIM would likely demand a court order before it handed over its customers' private data, which could include email addresses, BBM nicknames, or the contents of BBM messages themselves. But it is certainly odd for a company to throw out such an open ended statement and rebuff requests for clarification.
4.18pm: My colleague Colin Blackstock is heading into work for the night shift. He's seeing a lot of cops around Hackney, but no sign of any trouble apart from shuttered shops.
4.11pm: With all the looting, rumours and riots, it's easy to forget that all this started with the shooting dead last week of Mark Duggan.
My colleague Patrick Barkham sends this from north London:
It is warm and sunny in Tottenham and the family of Mark Duggan are gathered in their garden, discussing the traumatic events of the past five days. Bouquets have been laid outside.

"Unsurprisingly they don't want to speak to the media, who they blame for 'twisting the truth' and telling 'all these lies' about Mark. 'He was a good man. He was a family man,' insists one relative.

"Some members of the family want to try to put out a positive message but others are grieving and angered by the coverage in some tabloids. So it is time to leave them in peace. Whether Tottenham will have a peaceful night tonight remains to be seen. A police helicopter is hovering over the high road, where some residents are still without electricity after the riots on Saturday night."
4.04pm: Twitter's going a little crazy over apparent looting and trouble on Mare street in Hackney, but the Met are playing it down. Here's what a busy Met press bureau had to say about the situation:
There's a group gathering there, but we're in attendance."
4.00pm: More on the alleged BlackBerry messaging frenzy from Peter Walker:
If the young people I've talked to in Enfield are right, then this is the BBM-organised riot. One girl, Alice, 17, showed me the Blackberry message she'd been passed, in many ways similar to that seen by Paul Lewis. It began:
Everyone in Edmonton, Enfield, Wood Green, everyone in north London, link up at Enfield train station at 4pm."
It then tells people to bring shopping trolleys and hammers and prepare for trouble, and to pass the message to all their contacts.
In many ways it's all so much teenage boasting and hyperbole, but it seems to have done the trick: Alice's friend, Alixe, also 17, told me she saw a big crowd gathering there at the station.
She watched most of the looting and said it was mainly seemingly done by outsiders while Enfield locals, herself included, just looked on. After the crowd was dispersed from Enfield town some groups seem to have gone to nearby Ponders End, where a Dixons branch was supposedly ransacked (I've not been there yet).
3.55pm: Nerves are beginning to show in Hackney, Edmonton and elsewhere.
Dave Hill tweets:
Small line of cops at Narrow Way end of Mare Street. All shops shuttered. Pedestrians milling, seem relaxed.
Paul Lewis tweets:
Overlapping Twitter reports of shops being closed in #Edmonton and other areas of north London
3.48pm: All this talk of BlackBerry messaging has put Jasmine — who's reporting from Brixton — in a reflective mood:
I wish my BlackBerry was so efficient. I've been forced to charge my phone from a stranger's computer in a central cafe, where I have met other reporters in the same flat battery predicament.
3.43pm: Josh Halliday has a bit more on that extraordinary Twitter statement from BlackBerry:
As I understand it, that statement came from Patrick Spence, the general manager of global sales and marketing at BlackBerry-maker Research In Motion.

We've asked for more clarification on what it actually means. It would appear to leave RIM open to charges that it is ready to hand over users' private data – though knowing how cautious the company has always been with regard to customer privacy, I doubt whether this is the case.

It is worth recalling RIM's recent skirmishes with regimes in the Middle East. India, United Arab Emirates and Saudi Arabia pushed the company for months to unencrypt users' BlackBerry Messaging and emails over terrorism fears.
Remarkable time-lapse video of fires in the Tottenham night sky between Saturday and Sunday
3.32pm: More on the BBM line from Jasmine in Brixton:
A 25-year-old security guard and personal trainer — who was watching when the violence broke out in Brixton Road last night but asked not to be named — said no Blackberry broadcasts had been sent out to organise the looting in advance.
He told me there was a spat between a group of about 15 young people and police officers in nearby Coldharbour Lane at about 11.30pm, which then got out of control. When rioters hit Curry's electrical store, BBM messages were sent out to invite more looters.
He said:
I saw broadcasts that something was going down last night. But police knew as well. They've got Blackberrys, they know what's going on."
3.30pm: What do the Tottenham riots have in common with the Brixton riots 30 years ago and civil rights-era riots in the US? Roland Nicholson, Jr, who has posted below, explains:
As a student in London in 1981, I witnessed riots which erupted in the largely West Indian community of Brixton. I had lived through race riots in Baltimore following the assassination of Dr Martin Luther King, Jr.

While the differences amazed me the similarities were not lost on me either. There was an incident. There were a great many rumours. Groups of idle boys and youg men, who were already on hand began roaming in a menacing fashion. A liquor or appliance store window was broken and other members of the community joined the crowd usually to loot, and then the police responded.

The crime was repeated in neighbourhood after neighbourhood, with the result that the police were quickly overwhelmed and the crowds soon realised that the chances of anyone being arrested for looting were quite remote. A small group began setting fires to further overwhelm the authorities.

This is a recipe for disaster. However in both Brixton and Baltimore and now in Tottenham the riots were aided because of of a general feeling that whatever economic cycle the UK or the US were experiencing, black people were either not benefiting from it or were suffering disproportionately.

Anyone who was not aware of this had simply not seen a good many neighbourhoods in Baltimore, Brixton or Tottenham. When members of minority groups suffer the kind of economic plight that recently led to George Soros and Michael Bloomberg calling for a $130 million fund to lift young Black and Hispanic men in New York out of a cycle crime, under education and unemployment, there clearly is a problem. Not to see the problem marginalises the people and renders them invisible. What is occurring in Tottenham today shows that they clearly are not.
–
3.19pm: David Lawrence has penned an eloquent and angry piece for Comment is Free on why the riot has made him embarrassed to live in Tottenham:
I know people who have lost everything they ever owned because their homes were burned down over the weekend. I know people who have worked hard to create successful businesses and now have nothing to show for it. I know people who should be working today, but can't because their workplace no longer exists.

Insurance premiums in the area will sky rocket because of the damage and the fear it will happen again. House prices are going to plummet: who would seriously consider moving into the area now? Last but not least, jobs are going to be lost, because all of those big companies whose premises were destroyed won't reconsider reopening. Tottenham High Road was already run down and now it will be even worse. If you thought Tottenham was already a 'slum', just wait until the smoke clears.

There were people out there genuinely searching for justice, but even more people who weren't there for that. They just saw it as an opportunity to wreak havoc and seek things for personal gain. Stealing trainers from JD Sports? Taking phones from T-Mobile? Removing the hole in the wall, literally leaving a hole in the wall? All in the name of justice … right? Mark [Duggan] lived in Tottenham and died in Tottenham, but looters went as far as Wood Green.
3.14pm: Met Deputy Assistant Commissioner Stephen Kavanagh says patrols will be stepped up again tonight with many officers voluntarily abandoning scheduled leave.
Kavanagh described the wave of looting as "disgusting behaviour, ripping apart people's livelihoods and businesses", and vowed "speedy justice" for Londoners in the wake of the violence.
3.10pm: Blackberry — whose technology has allegedly been used to co-ordinate the unrest — have just apologised via Twitter:
We feel for those impacted by the riots in London. We have engaged with the authorities to assist in any way we can.
Extraordinary.
2.53pm: My colleague Josh Halliday has just come across this via Facebook. It was sent to a friend on BBM on Sunday morning:
I have just been informed that it may … all kick off again tonight around the wood green area, they get moved, they will make their way to the Enfield area. So be a bit cautious tonight. I'm not actually sorry for this broadcast."
2.50pm: Haringey council has set up a service to help those made homeless by the riots at the weekend in the borough. Those needing help with housing should call 07792 437519, and anyone wishing to help by donating materials such as bedding and clothes can do so at the south Tottenham council offices at Apex House, 820 Seven Sisters Road, London N15 5PQ.
2.48pm: Steve Reed, the leader of Lambeth council, has launched a blistering attack on those behind the rioting and looting, accusing them of merely going "on the rob":
Somebody described this as gangs of kids doing Supermarket Sweep. It was Curry's where they were after plasma screen TVs and H&M and Foot Locker where it was clothes and trainers.

"It was thieving on a mass scale. I've heard stories of people actually trying on clothes and using wheelie bins to fill with goods. It wasn't about social issues, it was an opportunity to go on the rob."
Reed also said the council had asked the mayor's office for additional police for the next few nights.
2.40pm: Wondering what our London blogger, Dave Hill, makes of the rioting and looting? Here are five reflections on recent events. Worth a read – especially no 2:
Rioting is often described as 'mindless'. The problem is, it's not. I know why the word is used: it expresses our incredulity and sometimes points to the rioting's counter-productiveness … But people who riot do have minds, and in these lie the reasons for their rioting.

Those reasons vary, and may be various. They will be bad reasons, even when miserably explicable. But reasons, they are. Call them motives, if you prefer. These may be greed, hatred, a craving for status, for battle and excitement and for an antisocial sort of liberty. Some deep, possibly incoherent rage against authority and a safer, kinder more prosperous world they can't join might be part of this story too. None of this is evidence of mindlessness, and to declare it so is to hide from reality.
2.35pm: Karen, a reader from Haringey, feels that last night's troubles in her area have got a little drowned out. Here's what she has to say:
I live right opposite the arena shopping park in a flat and had quite a good view of what was happening last night. We recorded the whole thing and took some pictures. There must have been at least 30 people and more arrived. They entered Carphone Warehouse first and then went on to Peacocks. The police arrived as they were trying to bust into Sports Direct.

"Although no one appears to have been injured the whole thing was quite terrifying to watch — not knowing whether things would escalate. Clearly these youths were simply taking advantage of the situation and it was quite the cat and mouse game between them and the police as they re-entered the shops regardless of police presence. Shocking and very scary! These people clearly have no regard for the law or other peoples property. I do hope this comes to an end now."
2.31pm: Quick plug for our datablog folk, who want to hear from anyone who saw or took part in London's riots across the city and looting to help guide our coverage, in the second part of our crowdsourcing project. Log your experiences here
2.28pm: A disturbing dispatch from Jasmine in Brixton, who reports that children as young as 12 may have taken part in the looting:
One eyewitness, who asked not to be named, said a police officer patrolling Brixton road this morning told him he thought 12-years-olds were involved in the looting.

Last night he had watched as more than a hundred people ran through the streets with 'boxes and boxes' of electrical equipment such as plasma televisions and video games.

He said that while officers were already patrolling the centre of Brixton, riot police arrived at the scene of the violence at least an hour after it all began."
2.26pm: Craig, a former HMV manager, has emailed in to say how frustrated and furious he is at what has happened to the music shops in Wood Green and Enfield:
I was a manager at HMV for 10 years and still have many friends, as well as my girlfriend, who still work for the company. Things are extremely tough for HMV now – staff haven't had a pay rise for two years in a row, rarely achieve sales bonuses and things are hard for them in general. Last night, looters not only broke into the store and stole company stock, but also broke into staff lockers and stole their possessions. How can these actions be remotely justified?
2.21pm: Paul Lewis is back in touch with some more on the role that Blackberry Messenger is playing in all this:
There is no doubt that that BBM — Blackberry Messenger — is being used to organise disturbances. Again, I've had multiple sources confirm that this BBM message, encouraging people to loot in Enfield Town, was widely disseminated as early as 2pm on Sunday. It appears to have been the main message that was being shared, although there were variations.
Everyone in edmonton enfield woodgreen everywhere in north link up at enfield town station 4 o clock sharp!!!! Start leaving ur yards n linking up with you niggas. Guck da feds, bring your ballys and your bags trollys, cars vans, hammers the lot!! Keep sending this around to bare man, make sure no snitch boys get dis!!! What ever ends your from put your ballys on link up and cause havic, just rob everything. Police can't stop it. Dead the fires though!! Rebroadcast!!!!!"
Paul adds:
We have to be careful not to fan the flames in situations like this, and I am reluctant to reveal the (many) BBM messages that are circulating with instructions for tonight. They are all hard to verify, but generally suggest plans to gather in at least six boroughs in north London. You can send other BBM messages about tonight's activities in confidence to paul.lewis@guardian.co.uk
2.10pm: Here's a summary of events so far today.

• Trouble spread to many parts of London in a second night of disturbances across the capital. There was violence in Enfield, Walthamstow and Brixton, with instances of looting and vandalism. The acting Metropolitan police commissioner Tim Godwin pledged a robust response to what he described as "pure criminality" seen in recent days. The Met said Twitter users could face arrest for inciting violence.
• The London mayor, Boris Johnson, said he understood the need for answers about the shooting dead by police of a man in Tottenham on Thursday night. But he condemned the "mindless violence" and said that what he described as "sheer criminality across London are nothing to do with this incident and must stop now".
• The Independent Police Complaints Commission, which is carrying out the investigation into the death of Mark Duggan during the shoot-out at Tottenham Hale, issued a statement which appeared to criticise the Metropolitan police. Rachel Cerfontyne, the commissioner overseeing the investigation, said the Duggan family's concerns were about "lack of contact from the police in delivering news of his death to Mark's parents".
• The deputy prime minister, Nick Clegg, has rejected claims that the government failed to provide leadership as the capital was hit by rioting over the weekend because senior ministers were away from London. "I reject completely this notion that somehow this Government hasn't been functioning very effectively," said Clegg, who said that he had spoken to David Cameron, who is on holiday in Italy, by phone this morning. 'We have arranged things to make sure that this government works effectively on all the issues of the day. We are in constant contact with each other."
2.04pm: The shadow home secretary, Yvette Cooper, has also been commenting. She said that "immediate action is needed by the government, the London mayor, the Met, local councils and communities all working together" to stop the disorder from continuing. And she gave a veiled warning that Labour will keep up the pressure on the link between the rioting and public sector cuts:
We also need a clear strategy from the government and the mayor to prevent this disorder becoming a repeated problem throughout August and September. That means looking swiftly at the capacity of the police and of prevention programmes both of which are facing considerable resource pressure at the moment.
1.58pm: The London mayor, Boris Johnson, who has been criticised for his absence (he is on holiday), has issued a statement. He said the scenes of violence and destruction were "utterly appalling".
People have lost their homes, businesses and livelihoods through mindless violence. I understand the need for urgent answers into the shooting incident that resulted in the death of a young local man, and I've sought reassurances that the IPCC are doing exactly that. But let's be clear – these acts of sheer criminality across London are nothing to do with this incident and must stop now.
1.54pm: Among the most dramatic images to emerge from Saturday night's rioting was the burnt-out shell of the Carpet Right store in Tottenham. The discount chain was founded by the Tory peer Lord Harris of Peckham in 1988. He has been on the BBC's World at One programme on Radio 4, and promised to help the "working class" people whose homes above his store had been destroyed by the fire.
My real sympathies are with all those people in the flats above me who are working class – and I don't mean that rudely – that have got nothing. They have only got the clothes they are in. The only thing I can say is that I'm pleased they all got out safely, because they could all have been killed.

I want to try to help them. I have asked my PR company to find out their names and see if we can get in touch with them, meet them and see if I can help in any way – give them money, or help them with clothes. I feel very, very sorry for them.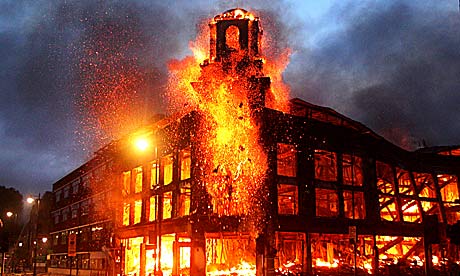 Fire rages through a carpet store in Tottenham, north London in the early hours of Sunday.
Here's a reminder of that memorable picture from Saturday.
1.28pm: Vikram Dodd reports that the Met is saying it will investigate Twitter feeds for incitement.
1.26pm: A Twitter user who goes by the pseudonym of InspectorWinter, who describes himself as a "law enforcement officer" in his mid 30s, has written up a detailed blog post of his experiences policing the riots in north London last night. Often it's hard to verify these anonymous accounts, but this user's feed has thousands of entries dating back months and appears authoritative.
In a long and thoughtful post he writes of trying to comfort a shop owner whose livelihood has gone up in flames:
I simply do not know what to say to him … it's genuinely heartbreaking. I do something I find myself doing a lot over the next few hours, telling him I'm sorry and then giving him a manly hug with a pat on the back. Helmet back on and we're off somewhere else.
He goes on to talk of his frustration at not being able to prevent the lawlessness:
I have never experienced looting of this scale, the wholesale sacking of shops is taking place, we know it is taking place and there is nothing we can do about it, a couple of the more hardcore members of my team want to "blat round and stop it", we're outnumbered, we're encumbered by protective equipment and we're drained. If we go blundering into this kind of situation we'll do more harm than good.
And he wants to stress that most police officers understand the frustrations of the community over the shooting in Tottenham on Thursday.
The traditional, stereotypical, image of a public order police officer is that of some knuckle dragging man mountain who's main skill in life is being able to knock a door down in one hit. As I survey the people around me, none of them fit that. They're all reasonably intelligent, in the van there have been long discussions on what the cause of this is. We can understand the anger of the community over the shooting of Mark Duggan by armed police, we know that they want answers. But we also know that at times the investigative process is painfully slow, waiting for forensics to come back can take a while, the laborious process of locating witness and then taking statements, tracking down CCTV and seizing copies of it, then reviewing it. All of these things are hard enough for us, let alone the IPCC, and I have very little idea of the size of their investigative teams, but I can't imagine they are that large.
1.15pm: Meanwhile, the IPPC has responded to suggestions that it hasn't had enough contact with Mark Duggan's family since he was killed on Thursday. The language is rather critical of the Met and how it has behaved.
The IPCC also says it expects to have the results of the bullet tests within 24 hours.
In the statement, the IPCC commissioner who is overseeing the independent investigation into Mark Duggan's death, Rachel Cerfontyne, said:
I am aware of various media reports suggesting that we have not had adequate contact with Mr Duggan's family since his death. Following my meeting with the family yesterday (Sunday) I am very clear that their concerns were not about lack of contact or support from the IPCC. Their concerns were about lack of contact from the police in delivering news of his death to Mark's parents.

"It is never the responsibility of the IPCC to deliver a message regarding someone's death and I have told Mr Duggan's family that I would be addressing this issue with the Met and that, if necessary, this would become part of our investigation …

" … I am also aware that Mr Duggan's family were unhappy at waiting at the police station for such a long time. The IPCC was contacted by the MPS at 8.30 pm on Saturday evening. We were told that Mr Duggan's partner had been there and wanted answers to a variety of questions, but that she had now left …

" … IPCC investigators are currently liaising with scientists at the Forensic Science Service regarding analysis on ballistics. We would anticipate being in a position to share verified results within the next 24 hours."
12.59pm: Amid the Blackberry brouhaha, Twitter colossus Neal Mann — aka @fieldproducer — makes this good point about how news gets around:
What is also worth noting is that info also spreads very quickly via *shocked face* – word of mouth through text and phone calls
12.57pm: Traffic news update, courtesy of Jasmine Coleman in Brixton:
Police say that Brixton road will be closed to traffic for the next hour and the pavements could be closed all day as officers take photos of the aftermath of last night's destruction.
12.51pm: Vikram Dodd tweets this from the Scotland Yard press briefing:
#londonriots met commissioner: 'we need to separate grievance and criminality'
While Sean O'Neill of the Times has this:
Met acting chief Tim Godwin says looting is "pure criminality" and he wants crim justice system to respond robustly
12.47pm: The theme of the day is the use of BlackBerry Messenger – rather than Facebook and Twitter – co-ordinate the unrest. Here's what my colleague Josh Halliday makes of it all:
If there was any sign that a peaceful protest would escalate, it wasn't to be found on Facebook. Twitter was slightly more indicative: tweets about an attempt to target Sunday's Hackney Carnival were spotted by police and the event was abruptly cancelled.

However, the most powerful and up-to-the-minute rallying appears to have taken place on a more covert social network: BlackBerry Messenger (BBM).

Using BlackBerry handsets – the smartphone of choice for the majority (37%) of British teens, according to last week's Ofcom study – BBM allows users to send one-to-many messages to their network of contacts, who are connected by "BBM PINs".

And unlike Twitter or Facebook, many BBM messages are untraceable by the authorities (which is why, in large part, BBM is so favoured by Emirati teens to spread illicit gossip about officialdom).
12.38pm: My colleague Vikram Dodd is at a Scotland Yard, waiting for a briefing on the riots and looting to begin.
I'll bring you lines from there as soon as we have them.
12.35pm: You will have noticed that west London has so far escaped the violence and looting. But the people at the gigantic Westfield shopping mall in Shepherd's Bush are not taking any chances. Here's a statement from them:
We would like to reassure our shoppers, staff and retailers that Westfield London is open as usual and reports of disturbances are inaccurate. We have police and Westfield Security presence on site in light of the current situation across London and we are working closely with the Metropolitan police to monitor the situation."
This picture, posted to Twitter by Chris Ward, who works in the area, shows security fencing being put in place.
12.30pm: Jasmine has this from Brixton:
Police have told businesses in the streets around Brixton Road to close for the day. Workers say police just told them it was "advisable" to shut. From what people here have told me, Brixton Splash carnival went well without many problems, although some are saying groups came to make trouble in the evening.
Sameer Manro, who works in a dental practice off Brixton Road, said:
I think this was opportunistic. It was an excuse to steal stuff. The relationship between young people and police has got better in recent years. This is 'new' Brixton now.

"Five years ago it was different, there was more animosity. Now the area is quite wealthy. I wouldn't have expected this to happen here."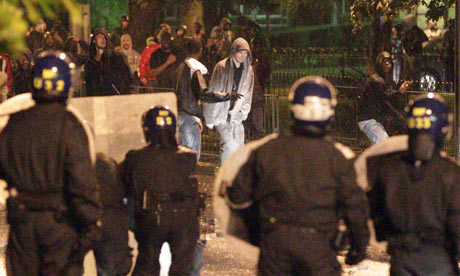 Riot police and youths near a Currys store that was broken into in Brixton, south London, as a second night of rioting hit London. Photograph: Lewis Whyld/Press Association
This picture shows clashes near a Currys store in Brixton.
12.28pm: We've heard a lot from Brixton this morning, but not much from north London.
Peter Walker, who's in Enfield, has sent this:
Some fairly significant sections of Enfield town centre remain sealed off with police tape after serious looting last night. The centre is very solid and prosperous-looking, but the wider borough has areas of significant deprivation. The consensus view of shopkeepers and other locals I've talked to is that this was both a copycat riot and — to the extent that young people were seen gathering in groups beforehand and calling and texting friends — pre-meditated.

The worst-hit places include a ransacked branch of the clothes chain H&M, and Silver Street, near the council offices, where several stores have broken windows and bricks still litter the road. One person told me a wall was partially demolished to provide these, but this was second hand.

Right at the town centre an independent jeweller, G Mantella, had its metal shutter ripped apart by an estimated 200 young people, who then used a heavy steel bar stool — still on the pavement — to break one display window.

The owner, Erdal Mehmet, 49, said around £40,000 worth of watches were taken. He counts himself lucky that the other reinforced display window, holding jewellery, held out and that no one was hurt.

Some locals say the town centre can be a slightly hairy place to be at night, but all are pretty shocked."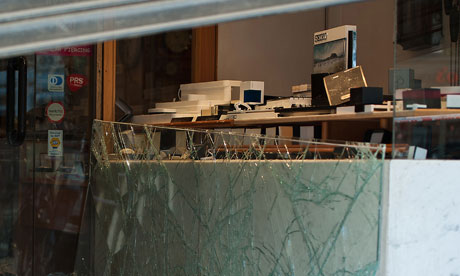 A damaged jewellery store in Enfield, north London, following a second night of disturbances on August 8, 2011 Photograph: Ki Price/AFP/Getty Images
Here's a picture of the jeweller mentioned by Peter.
12.21pm: David Cameron's official spokesman has described the violence as "completely unacceptable":
We are very clear that those responsible for that violence and looting will be made to face the consequences for their actions."
Asked if the prime minister, who is on holiday in Italy, felt the police response had been adequate, he told reporters:
We would pay tribute to the work that the police have done, and indeed that other emergency services have done, in the past couple of days.

"They deserve our thanks for putting themselves in harm's way."
It was right to await the results of the review before commenting further, he said. The spokesman said he was not aware of any conversation between Cameron and the London mayor, Boris Johnson, who is also on holiday, about the disturbances.
12.17pm: My colleague Paul Lewis has got hold of one of the BBM messages that was circulating on Blackberry phones last night.
He writes:
It is hard to verify, but multiple sources have sent me this identical message – still, we need to be cautious. If authentic, it explains one of the the less reported (and understood) aspects of last night's disturbances: the appearance of a small numbers of looters in the early hours of the morning in Oxford Circus. I don't know where they came from, but central London is a long way to travel from most residential areas in the capital with no public transport. That puts to rest any doubt that the disturbances are highly organised:
Everyone from all sides of London meet up at the heart of London (central) OXFORD CIRCUS!!, Bare SHOPS are gonna get smashed up so come get some (free stuff!!!) fuck the feds we will send them back with OUR riot! >:O
Dead the ends and colour war for now so
if you see a brother… SALUT!
if you see a fed… SHOOT!
We need more MAN then feds so Everyone run wild, all of london and others are invited! Pure terror and havoc & Free stuff….just smash shop windows and cart out da stuff u want! Oxford Circus!!!!! 9pm, we don't need pussyhole feds to run the streets and put our brothers in jail so tool up,
its a free world so have fun running wild shopping;)
Oxford Circus 9pm if u see a fed stopping a brother JUMP IN!!! EVERYONE JUMP IN niggers will be lurking about, all blacked out we strike at 9:15pm-9:30pm, make sure ur there see you there. REMEMBA DA LOCATION!!! OXFORD CIRCUS!!!
MUST REBROADCAST TO ALL CONTACTS!!!"
If anyone else has intelligence about BBM messages being used to orchestrate looting, please email me in confidence. paul.lewis@guardian.co.uk
12.14pm: A couple of other bits and pieces:
This piece from Tech Crunch has more on the to the role of Blackberry BBMs in the riots.
And this Telegraph blog post draws a line from the London riots to protests by UK Uncut.
12.11pm: My colleague James Ball has just been speaking to Stella Creasy, the MP for Walthamstow.
She's told him that there were 21 arrests in her borough last night, plus an attack on Tesco, which caused an estimated £100k damage. (But it is open and trading today.)
She added:
Last night was an extreme situation. We haven't dealt with such co-ordinated looting before. People set out to steal.

"This is a type of organised crime we've never seen before. This was organised: I was out last night and people were asking for directions to our town centre in order to attack it.

"Looters took advantage of social media, great communication tools, but it doesn't make this a Twitter crime. Underneath that is people willing to break into places and steal.

"We shouldn't get overexcited, though. Businesses are angry, but people are calm. They understand this wasn't social unrest, it was something different.

"My borough commander says he has all the support and resources that he asked for. There was a strong police presence last night and there'll be another tonight."
12.08pm: One of the New York Times London correspondents, Ravi Somaiya, was on the ground in north London throughout the weekend and has written a number of good pieces. In his latest report, he links poverty, budget cuts and the crisis of leadership at the Met:
Frustration in this impoverished neighbourhood [Tottenham], as in many others in Britain, has mounted as the government's austerity budget has forced deep cuts in social services.

"At the same time, a widely held disdain for law enforcement here, where a large Afro-Caribbean population has felt singled out by the police for abuse, has only intensified through the drumbeat of scandal that has racked Scotland Yard in recent weeks and led to the resignation of the force's two top commanders."
12.05pm: A little more grist to the Blackberry messaging mill, courtesy of Jasmine:
The offices of Live, a magazine for young people across London, are unusually quiet in Brixton this morning as their young writers, designers and editors struggle to make it in.
The only one to arrive so far is editor Celeste Houlker, 20. She told me young people had been using Blackberry mobile phones to discuss the disruption.
She said that over the weekend, there had been a Blackberry "broadcast" warning those who were involved in the violence in north London not to bring the trouble south:
"I found out all about the riots on my Blackberry. But I didn't think it would be on this scale.

"I do not understand it at all. Maybe they are just copying what happened in north London. What happened there escalated but what happened here was serious and planned. It's not funny at all."
12.03pm: Back to the issue of whether the London mayor, Boris Johnson, should return from holiday and "take charge" of the situation in the capital.
The Mayorwatch blog suggests the calls are a result of Johnson's desire during his mayoralty to portray himself as London's "top cop". But there are political dangers in this strategy:
The force is under intense national scrutiny, any failings and shortcomings can very easily be portrayed as the result of Boris's 'carelessness' in losing two Met commissioners in three years.

"Having continually presented himself as the 'de facto' head of the Met, Boris will find it difficult to escape the fallout if the temporary leadership he helped create lets Londoners down."
11.57am: Jasmine Coleman, who's pounding the streets of Brixton for us, has been chatting to young people there about the unrest — and what they believe may have fuelled it
Rianna Price, 18, who lives nearby, said she thought the violence showed the level of anger among youth in London.
I don't even think it was about Tottenham. I think they are trying to get back at police because they are cruel. They just arrest you for anything.

"I think this is more about the young people, the older people around here just get on with it."
She suggested rioters might have targeted shops that were slower to employ local people.
It's pretty difficult to get jobs around here, even if you live here. I think it's just about getting free stuff. They are in it for their own gain."
She said she thought the people involved in the disturbance came from both Brixton and elsewhere.
I don't think most people around here want to smash up the place."
And, she added, the violence would continue unless the relationship between police and young people in London improved rapidly.
I don't think the police really care – it's just about money. Until they assess the deeper issues this is still going to go on.

"The police need to use their power to empower and help people."
11.52am: Twitter rumour — or, more precisely, the co-editor of Lib Dem Voice — suggests that Nick Clegg and Lynne Featherstone (MP for Hornsey and Wood Green) are heading down to Tottenham this afternoon:
Hear that @nick_clegg and @lfeatherstone visiting Tottenham & Wood Green this afternoon following #LondonRiots
11.46am: This from Andrew Sparrow, senior political correspondent, down at Westminster:
Nick Clegg today rejected claims that the government failed to provide leadership as the capital was hit by rioting over the weekend because senior ministers were away from London.

As it emerged that Theresa May, the home secretary, is flying back to to the UK for talks with police chiefs about the disturbances, Clegg defended the government's response to the trouble and condemned what he described as 'needless opportunistic theft and violence – nothing more, nothing less'.

On his first day back in Westminster after his summer holiday, Clegg said the violence was 'completely unacceptable'. The government stood 'side by side with those people in those communities who utterly condemn the violence and the theft', he said.

There have been complaints that the government did not have a senior minister in London at the weekend when the rioting broke out. But Clegg insisted that senior members of the cabinet had been in regular contact by phone.

'I reject completely this notion that somehow this Government hasn't been functioning very effectively,' said Clegg, who said that he had spoken to David Cameron, who is on holiday in Italy, by phone this morning.

'We have arranged things to make sure that this government works effectively on all the issues of the day. We are in constant contact with each other and we are working as effectively this week as we do in every other week of the year.'"
11.34am: London's mayor, Boris Johnson, is refusing to follow Theresa May's lead and cut short his holiday despite rioting in the city. His stance has been defended by Kit Malthouse, the deputy mayor for policing in London, who said a return would "kind of reward" criminality.
What do you reckon? Should he come back?
Have your say on Comment is Free, where we've opened an opinion poll
11.30am: Thegreatgame, below, asks about the "police issue bullet" that is understood to have been found lodged in the radio of a police officer after Mark Duggan was shot last Thursday:
Can the Guardian please explain what a 'police issue bullet' is? How does one tell one 9 mm round from another? Does police issue ammunition have ER etched onto it or something??
Yes, we can. As our crime correspondent, Sandra Laville explains:
Police issue bullets are very distinct as the Metropolitan Police uses dum dum type hollowed out bullets designed not to pass through an object.
11.20am: Here are some fuller quotes from Nick Clegg:
Let's be clear, the violence we saw last night had absolutely nothing to do with the death of Mr Duggan. It was needless, opportunist theft and violence – nothing more and nothing less.

"It is completely unacceptable and the people who have suffered are those who have lost their businesses, shopkeepers who have lost their shops, families who have lost their homes and many people who felt very frightened in their own neighbourhoods."
He said the government stood "side by side" with the victims in "utterly condemning" the rioting and looting, adding there was "no excuse whatsoever" for creating feelings of "insecurity".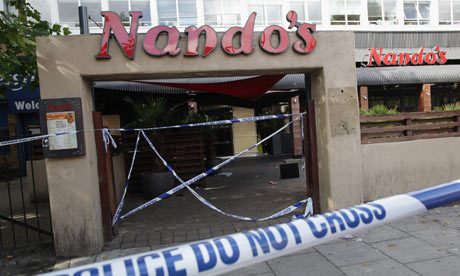 Nando's restaurant in Brixton, south London, is cordened off after being ransacked on August 8, 2011 Photograph: Dan Kitwood/Getty Images
11.13am: James, another Brixton resident, has sent us this account of what he saw last night. He's particularly annoyed at the damage done to the Brixton Nando's:
I just wanted to add my opinion to the police force's treatment of the riot last night in Brixton. I live in Brixton, literally opposite the police station, so I had a very good view of the entire proceedings.

At around 12:30, we foolishly decided to go and see what was happening for ourselves after having read the news. We walked through the smoke infested high street and saw gangs tearing up metal barriers in in the pawn shop and literally walking through the door to grab any jewellery they could find.

Before that they were across the street in the Game Station, where they used bricks and ladders to smash the windows before raiding it. But in both instances, the police were stood by the bridge near the then burnt out Footlocker/Brixton High street too busy stopping people from going past, while literally watching the looting take place.

The gangs were openly mocking the police from a distance as they brazenly stole what they could. After about 15 minutes of watching, the police force slowly moved toward the gangs scaring them away. But by now the damage was literally done and dusted; it simply would have taken one or two officers just to be stood in the middle of the high street to scare them off, yet nothing.

The worst occurrence — and the least noted in the media — was the illogical ransacking of the Brixton Nandos. A very small gang repeatedly threw chairs into the windows before breaking in after several frenzied attempts. They literally stole the entire tills (which I assume were empty) before starting a fire inside. We live on the opposite street so we could see the entire events, as could the police forces stood outside the police station in direct line of the Nandos. After around 40mins, the police force and fire brigade turned up at around 2:40am.

I'm not blind the fact that there was a widespread rioting all over London, but the lack of police force in Brixton given that it all occurred right next to the police station is very baffling.

The situation was worsened by the police force largely standing and watching events take place before they intervened. It would have only taken a few officers stationed in the middle of the street to stop the damage to Game Station and more … "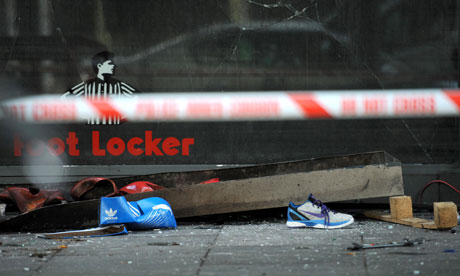 Debris outside a Foot Locker store in Brixton, south London Photograph: Stefan Rousseau/PA
11.08am: My colleague Matthew Taylor, who was down in Brixton last night has just emailed over this recap of events there.
Until about 11.30pm on Sunday it appeared that Brixton was not going to be caught up in the disturbances sweeping London.

The Splash festival had passed off without any major problems and and as several thousand revellers began to disperse the atmosphere remained overwhelmingly friendly and calm.

But that changed rapidly a few hours later when a couple of hundred young people — some with masks or scarves, others with hoods pulled down over their faces — gathered and began pelting the police with stones and bottles.

The situation and atmosphere changed very quickly and there were reports from some witnesses that the group had arrived together on buses and in cars, but I can not confirm this.

Police appeared unprepared for the clashes and over the next three hours shops along the High Street were smashed and looted.

Men, women and teenagers helped themselves to goods and cash from H&M, Vodafone, McDonalds and T-Mobile, while a major fire took hold in Footlocker.

People were carrying armfuls of clothes and shoes and passing them to friends in cars, carrying them away balanced precariously on the back of scooters or on foot. Although the police had gathered in a nearby side street they did not intervene for more than an hour.

At about 12.30, as it began to rain heavily, the police started to push people back up the High Street. But by that stage the majority of the crowd had made its way to a large branch of Currys half a mile out of the centre of Brixton.

Over the next few hours the shop was ransacked, with people walking out with large flat screen televisions and computers. At one point the police attempted to intervene but were pushed back by a hail of rocks. Officers eventually began to gain control of the situation around 3am."
10.58am: Here's a map my colleague Hannah Waldram has put together showing which shops have been damaged in which areas. Keep your reports coming in via me, the comment thread or @guardian
10.53am: The deputy prime minister, Nick Clegg, has condemned last night's "needless opportunistic theft and violence", which he said had "absolutely nothing to do with the death of Mark Duggan".
10.44am: Scotland Yard will hold a press conference at 12.30pm to give more detail, condemn the looters and defend its actions, says my colleague Vikram Dodd.
–
10.32am: My colleague Jasmine Coleman has this dispatch from Brixton:
The pavements all along Brixton road are closed as police officers and shopkeepers try to deal with what happened last night. Shops windows have been smashed – especially those of fast food restaurants such as McDonalds, KFC and Nandos.
One shop, which I'm told was once a JD Sports, has been torched. Shakir Alam, 21, arrived at work at McDonalds on the corner of Acre Lane and Brixton Road this morning only be sent away again.
He said:
It just doesn't feel right. Look at this street, it's all smashed up. I think the reason is the same as in Tottenham where that guy was killed.
Sam Gafre, 16, heard the violence at around midnight last night from his home nearby:
I heard lots of smashing glass and lots of sirens. But I didn't know how badly it was up until now. I came here to shop but it's all closed. From what I'm hearing it is just because of what happened in Tottenham, people are just using it as an excuse to rob stuff.
10.26am: Over in Wood Green, one bookshop owner is very, very angry about the weekend's events. Here's some of what he wrote last night:
We are not at all happy about this. The people who did this are not representative of how Wood Green (and Tottenham) feel …

They have used a controversial and tragic incident and turned it into an excuse to steal things and smash things and ruin things. They have no interest in anything other than what they can gain from this situation and I am furious.

I had a text message at 5.30am from one of our most wonderful and precious customers. She lives above a shop on the High Road. She texted me to tell me about how horrible things were and to give me a warning in case I didn't know. Now here's the thing. She is pregnant, and was due to give birth yesterday.

The high road has been cordoned off. All the police and ambulances are in Tottenham. Not a good situation when the looting and rioting in Wood Green has been going on for 2-3 hours without any police intervention (they are all still in Tottenham) and the likelihood of a taxi to take you to a hospital is zero.

This is just one example of the short sighted, ignorant, self indulgent and greedy nature of the actions in Wood Green and Tottenham. There are many many more."
10.21am: Huge thanks to the people of Brixton, who are helping us build up a pretty thorough picture of what happened there last night. Latest snapshot comes courtesy of Rahul Verma, a freelance journalist who's live in Brixton for 12 years:
It seems remarkable that big businesses and chains including KFC, McDonalds, WH Smith, Currys and JD Sports were targeted while the Ritzy cinema a venue that's visible, has lots of windows and is in the heart the trouble is untouched."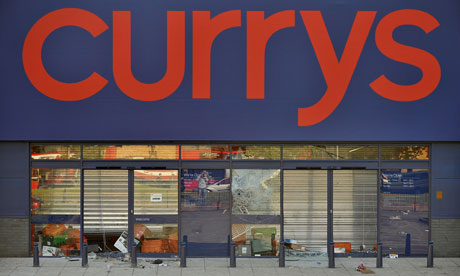 A branch of the electrical store Currys in Brixton, south London Photograph: Ben Stansall/AFP/Getty Images
10.16am: A dispatch from a Brixton bus last night (thanks to Matthew Turner for this):
I was on the No 3 bus last night going through Brixton right on midnight.

We were 100m from the tube station when the road was blocked of by rioters using the newspaper recycling bins as blockades.

Fires were being started in phone booths about 10m from where the bus was stationed. The bus was stationary for about 10 minutes before the driver decided to smash through the recycling bins.

I was very surprised by the lack of police given that Brixton police station is only 100m down the road.

I called the police to alert them to the situation but didn't see any police in the space of 10 minutes. Footlocker was being looted and bricks were flying everywhere.
10.09am: Laura Kudrna has just sent in this saga from Brixton:
I've just woken up on my friend's sofa this morning which is not where I expected to be. Around midnight last night I tried to get to my door on Coldhabour Lane after my friend drove me back from Telford where I had attended a wedding. She dropped me off at the top of Coldhabour Lane near the Ritzy because there was traffic and I quickly saw why, as police were blocking my road.

I assumed there had been a stabbing and I would receive an escort to be my door as has happened in the past. Instead, when requesting to get to my door, I was shouted at by a female police officer and told to leave the area. Upon asking why, she told me five people had been stabbed and someone was running around with an axe so I needed to go the police station. This was all I was told and had no idea what was going on. I saw my friend, a local shop owner, and he told me to wait for the police to calm down and it was just some youths causing trouble. I started to head to the police station after requesting numerous times to get to my door and being blocked from going through.

I tried walking down Electric Lane and Electric Avenue to get to the high street and first saw broken glass all over the high road, then saw a woman screaming and running top speed after a man headed towards the KFC. I turned my head to look right towards the station, and saw a huge crowd moving my way. I turned around and started running down Electric Avenue (full sari and heels and suitcase!) unable to call anyone because my phone was out of battery.

I was truly terrified.

Fortunately I have a friend on the street and rang his bell until he answered. He let me in and we could see a fire burning from his roof – we thought it was the Marks and Spencer but I guess it was Foot Locker. I could see riot police and hear shouting and breaking glass.

I can understand the frustration of the people looting and rioting – our political and economic climate is pretty bad and it sounds like the police should have engaged in more open communication with Mark Duggan's family. I am disappointed this will contribute to stereotypes about Brixton being a dangerous place to live because it's really not, I love living here and it has a wonderful, normally very safe community.
10.04am: The home secretary, Theresa May, is thought to be in her way back to the country today to talk to police and take charge of the situation
10.02am: My colleague Jasmine Coleman, who's just arrived in Brixton, sends this:
Brixton tube station is still closed due to 'a police investigation'. There was a handful of officers at Stockwell station but no sign of unrest so far.
9.42am: We've got a team of reporters in — or heading down — to last night's hotspots. If you've got any information on what happened in your area, do get in touch on the thread below or by emailing sam.jones@guardian.co.uk
9.38am: Interesting technological observations here from the Urban Mashup Blog:
In recent public disturbances such as the Student protests, commentary has focused on the role that social networks such as Twitter and Facebook have played in the planning of demonstrations and coordination of protesters. By contrast in this riot it appears the social network of choice is one provided by none other than BlackBerry.

Blackberry's have been produced by Research In Motion (RIM) since 1999. They were originally associated with busy office executives who needed to access their emails on the move, but in recent years they have become increasingly popular within youth and urban cultures. I have to admit that I found this puzzling. It took my far cooler 17 year old nephew to explain that the main reason for their popularity is due to BBM – BlackBerry Messenger.

BBM as it is known, is an instant messenger system that has become popular for three main reasons: it's fast (naturally), it's virtually free, and unlike Twitter or Facebook, it's private.

So what has all this got to do with the riots in Tottenham?

Well, it appears that BBM messages have been circulating since Thursday's shooting of Duggan by the police. These have fuelled the anger of the youths that have taken to the streets. BBM was also the channel used to spread the word that the riot had started, and from what I can tell on Twitter, it appears to be the means by which communications continue to be shared.
9.33am: Amid the chaos, PA brings some cheer:
In front of the KFC on the corner of Coldharbour Lane in Brixton, which also had its windows smashed, the proprietor of a local bakery was giving out free cupcakes.

The owner, who would only give her name as Ms Cupcake, said:

"Brixton is about love. Who cares if people didn't show love last night? We wanted to show there is kindness in Brixton."
9.26am: Malthouse has also denied that the resignations last month of Met Commissioner Sir Paul Stephenson and Assistant Commissioner John Yates in the wake of the phone-hacking scandal had contributed to gaps in decision-making at the top of the force.
He defended the Met against allegations that too few officers were sent to tackle the rioters, adding:
We can't just maintain a standing army sitting in vans all over the place just in case something might kick off.

"We have to employ those officers as efficiently as possible."
9.24am: The deputy mayor for policing in London, Kit Malthouse, has told Sky News that the capital is one of the "safest big cities on earth". He's also suggested that some people are using the shooting of Mark Duggan as an excuse to steal "a new set of trainers or whatever it is".
He added:
I think it is worth stressing that this is quite a small group of people within our community in London who have decided to perpetrate violence and who, frankly, are looking for stuff to nick.

"They're picking particular kinds of stores, whether it is because they want a new set of trainers or whatever it is.

"What we have to be careful to do, in the media and in politics, is not create some kind of atmosphere of excuse for their behaviour."

Malthouse said police would be "unrelenting" in pursuing people who took part in criminal activity over the weekend, adding that they would be "hoovered up" by police in the next few weeks.

He defended Boris Johnson's decision to stay on holiday during the crisis in the capital, saying:

"Should he be reacting to these criminal provocateurs in that way by coming back? I think that is kind of rewarding them.

"Modern communications mean he can stay in touch and participate in meetings from around the globe."
9.19am: This comment from @simonlondontown is worth a read:
I was in Tottenham on Saturday, the police had petrol bombs and bricks and concrete thrown at them all night however they were still really polite with people who weren't involved. They were chiefly concerned with trying to protect the fire brigade who were rescuing families from flats that were on fire in the High Road.

This has nothing to do with a local gang member criminal who was shot while shooting at police, this is sadly just the typical sort of excuse adopted to try and add some shred of credibility to the actions of the unemployed lawless criminal low-lifes who, when they're not stealing — and now apparently looting — are swindling honest hard working people out of their taxes through the benefits system.

Until we make people work for their benefits in this country this type of lawlessness will continue. Let's stop criticising the police — who the media and particularly the BBC now blame for everything — and start facing up to dealing with the real problem.
What have you seen and heard where you live or work? Post below or drop me an email: sam.jones@guardian.co.uk
9.11am: Elsewhere, we're getting reports that the Bike Shack shop in Leyton has been looted and that the windows at Currys Leyton Mills have been smashed.
And thanks to pjlayer (on the thread below) for this:
Peacocks in Harringay Arena Shopping centre got looted last night. Possibly sports direct too, judging by the number of their hangers strewn across the car park this morning.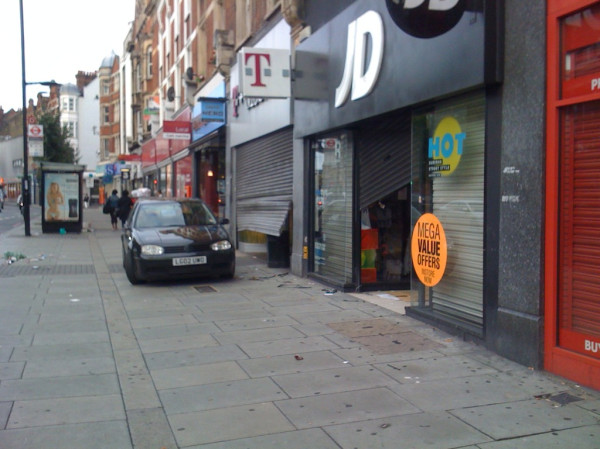 A twitpic of JD Sports in Streatham this morning
Meanwhile, here's what JD Sports in Streatham looks like today
9.04am: More info on the affected areas from colleagues. One, who lives in south London, writes:
Been told by a couple of neighbours that T Mobile & JD Sports in Streatham were broken into last night, possibly rammed
Another, who lives in Walthamstow, writes:
I was woken up at just before 12.30am to the sound of cars speeding, loud banging and lots of people talking.

I looked out my window and a crowd of about 40 youths had gathered at the top end of the High Street and were just milling around, with their attention focused down the High Street towards where the shops are, including BHS and Argos.

At just gone 12.30am, three police vans pulled into the top end of the High Street, and the youths began to be questioned by officers, but it seemed reasonably calm so I went back to bed.

The sirens continued in the area into the early hours of the morning.
8.44am: Nick Clegg has a busy day ahead of him and is expected to phone and meet top police officers and ministers to talk about the weekend's violence.
It also appears that the Met's Tottenham borough commander, Chief Superintendent Sandra Looby, is cutting short her US holiday to fly back to the UK and address the situation in her area. Looby has been criticised for jetting off to Florida in the runup to Saturday night's violence.
Deputy Assistant Commissioner Steve Kavanagh told the BBC Radio 4 Today programme:
The local chief superintendent, when she went away, actually handed over to a senior officer … and had two superintendents working on the borough constantly.

"She's now coming back because she is very committed to that borough."

He admitted there were too few officers in Tottenham on Saturday night, but blamed Twitter for fuelling looting and violence, saying: "Social media and other methods have been used to organise these levels of greed and criminality."

Kavanagh pledged that more officers would be on London's streets tonight to prevent or tackle further outbreaks.

He added: "There will be even more officers out, even more committed and brave then they have been thus far, to make sure London stays as safe as possible."
8.36am: More on the trouble in east London last night, courtesy of Twitter and Stella Creasy, MP for Walthamstow:

for clarity areas affected locally – walthamstow high st, green man tescos, leyton tescos, chingford mount & leyton mills. Police aware.

Ok update as at 8.30 – in waltham forest 51 arrests made, 5 active crime scenes ( may be more as people go to their shops etc) …

3 officers injured- 2 run over by looters- and there was a stabbing in early morning. Person went 2 hospital & injuries not life threatening
8.23am: There appears to be some confusion over what happened in Islington last night.
Despite reports on Twitter that a police officer was dragged from his car and beaten — and that Islington police station was surrounded by dozens of angry youths — the Met have just told me they're not aware of anything other than the broken police car windscreen and the group causing a disturbance.
8.14am: Here's a little more on events last night in the north London borough of Islington — which seem to have lacked the fury and violence of those elsewhere.
According to the Met:
In Islington there were reports of a group causing a disturbance and a police vehicle windscreen was smashed."
8.09am: Brixton residents are waking up to an ugly Monday morning and what one police officer has described as "a mini-Tottenham".
Here's PA's report on the situation in south London:
Several shops along the High Street, including WH Smith and McDonald's, had their windows smashed, and the Tube station was closed as officers diverted commuters during the morning rush-hour.

Firefighters were inspecting the burned-out remains of Foot Locker, next to the station. Inside, the blackened building looked to have been completely destroyed, with only charred remains visible from he street.

Police officers on the edge of a cordon in Brixton Road were directing hundreds of commuters to a nearby bus stop amid chaotic scenes.

One local, Mark Bray, 38, an IT consultant, said: "Police should have seen this coming. There was a festival here yesterday, it is no surprise with Brixton and all its history that the mood has turned sour.

"The looting is pretty pathetic, to be honest – it doesn't do anyone any favours."

The cordon prevented hundreds of commuters from getting to the overground station, which remained open.
8.07am: This is what the home secretary, Theresa May, has to say about the latest violence:
Last night, police officers again put themselves in harm's way to protect Londoners and their property.

"Those responsible for the violence and looting will be made to face the consequences of their actions. Many have been arrested and further arrests will be made.

"Londoners have made clear that there are no excuses for violence, and I call on all members of local communities to work constructively with the police to help them bring these criminals to justice."
8.05am: Four months ago, my colleague Peter Walker marked the 30th anniversary of the Brixton riots with this piece. It makes fascinating reading after the weekend's events:
Just after 6pm on a mild Friday evening almost exactly 30 years ago, a young police constable inadvertently set in motion a wave of violent unrest that would, over the next three months, sweep through England's inner cities.

The catalyst for the riot that would reshape national attitudes towards deprivation, race and policing was innocuous enough: on a busy street in Brixton, south London, PC Steve Margiotta tried to stop a frightened young black man who was bleeding profusely from a stab wound; he called for help when the youth ran away.

Community relations were at an all-time low amid an aggressive police crackdown that had seen 943 people searched on the street in a few days, and a rumour spread that Margiotta had prevented the youth getting treatment and – also incorrectly – that he had died. Within half an hour an angry crowd was pelting Margiotta and his colleagues with bricks and bottles.

Before the weekend was over, more than 350 police officers had been injured and about two dozen buildings were gutted by fires. By the end of 1981's summer of urban discontent, fuelled by mass unemployment and simmering resentment at oppressive, sometimes openly racist policing, similar scenes ravaged parts of Liverpool, Manchester and Birmingham.
More here …
7.59am: While we're on the subject of leadership, my former colleague Kevin Maguire has tweeted this:
Move along please. Nothing to see here. Crises over. Leadership restored. Clogg's back in Britain.
I'm guessing Clogg's deliberate …
7.55am: The Labour MP and phone-hacking campaigner Tom Watson is at a loss to understand who's minding the shop as violence erupts in the capital.
He's just tweeted this:
Whatever happened to rotas? It's remarkable the PM, DPM, Chancellor, Home Secretary and London Mayor are out of the country.
7.40am: Scotland Yard has just released this statement:
Officers responding to sporadic disorder in a number of boroughs made more than 100 arrests throughout last night and early this morning.
This is in addition to the 61 arrests made on Saturday night and Sunday morning."

According to the statement, there have been 16 charges over offences including burglary, points and blades, theft and violent disorder. Seventeen people have been bailed and one has been cautioned. One person has been sectioned under the Mental Health Act, 11 are awaiting CPS advice and 15 are ongoing inquiries.

The statement concluded:

Officers are shocked at the outrageous level of violence directed against them. At least nine officers were injured overnight in addition to the 26 injured on Saturday night.
We will not tolerate this disgraceful violence. The investigation continues to bring these criminals to justice.
7.37am: Good morning, and welcome to the Guardian's live reaction to London disturbances. A second night of rioting broke out across London last night, with violence erupting in several of the capital's boroughs, from Brixton in the south to Enfield and Islington in the north and Walthamstow in the east.
The fresh unrest – some of which appears to have been part of an orchestrated plan – has so far resulted in 100 arrests.
The latest rioting followed disturbances on Saturday night in Tottenham, north London, which came after the shooting by police of Mark Duggan, 29, on Thursday.